DARTH HAZE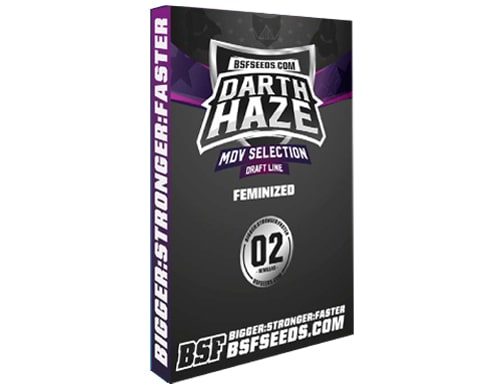 Starting from: 4,17€/pz
Genetics

50% SATIVA | 50% INDICA

Parents

BUBBA KUSH PRE 98 X LEBRON HAZE

THC

18-22%

CBD

LOW

Flowering time

8-9 WEEKS

Indoor

500-600 g/m2

Outdoor

700-1000 g per plant
Darth Haze
From the BFS laboratories a perfectly balanced variety was born, a 50 and 50 hybrid of indica and sativa.
The Darth Haze Fem was born from two famous parents of the BFS collection: the clone of a Bubba Kush preserved since 1998 and the flagship of BFS's offer, the Lebron Haze. From the former, the Darth Haze Fem plant has taken the typical green colour of the Haze with a very marked incense fragrance. Next to this, another darker phenotype stands out, which is also distinguished by its taste: the earthy flavour of ground is enriched by recognizable notes of lemon and cedar.
The Darth Haze Fem arrives to the stage of flowering in a few weeks, between 8 and 9, with truly surprising results. The very high yield of the plant can be achieved with both indoor and outdoor cultivation. When planted outside, it will not only be the yield that will amaze you, but also the lushness of the plant, which it can even triple its initial dimensions producing very big inflorescences, full of resin.
A very successful product, both for ease of cultivation and for its powerful and balanced effect, it is one BFS Seeds news you should not miss!