GORILLA GLUE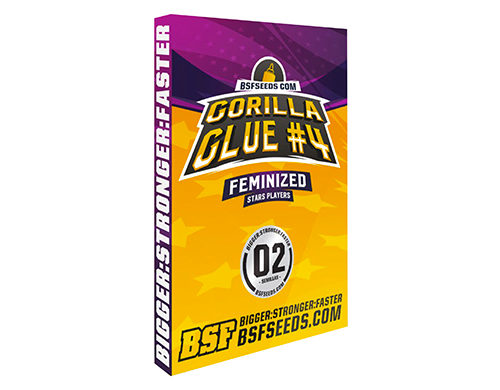 Starting from: 3,92€/pz
Genetics

70% SATIVA | 30% INDICA

Parents

CHEM SISTER X SOUR DUBB X CHOCOLATE DIESEL

THC

HIGH

CBD

LOW

Plant height

MEDIUM

Flowering time Fem

9-10 WEEKS

Flowering time Auto

9-10 WEEKS

Performance within Fem

500-600 gr/m²

Performance outside Fem

1000-1200 gr/plant

Performance within Auto

350-500 gr/m²

Performance outside Auto

50-300 gr/plant
GORILLA GLUE #4 FEM
BSF Seeds has always reserved a special place for one of their team's jewels that has recently entered the world of cannabis, the Gorilla Glue #4. In no time this variety has become a classic. The first time we had a clone of this strain, thanks to our collaborations with a Californian collective and after having tested its impressive effect, we could not avoid calling it "The new California beast".
Gorilla Glue # 4 cannabis seed has everything a grower wants, it is a plant with a fast flowering, super producer and resistant to fungi and pests. This variety has an explosion of resin during its flowering, a characteristic that has led it to earn the name of  "Glue", because while working the scissors literally stick to the shoots. This strain is the result of the cross between Chem Sister, Sour Dubb and Chocolate Diesel; their version is a cross S1 Gorilla Glue #4 X Gorilla Glue #4, this has created a latest generation version that is able not to lose all the features of the original.
This Marijuana seed is perfect for growing in Scrog because it has a branched structure with many lateral branches at the same height, resisting pruning very well. Its shoots are solid and covered with resin, the result of the high percentage of THC it presents, showing returns in extractions of up to 30%. A 3-week vegetative period is recommended. The effect of the Gorilla Glue starts with a strong feeling of euphoria that leads to a state of deep relaxation that will leave you glued to the sofa; and its pleasant taste of earth, acid and chocolate will not cease to surprise you. Thanks to its strong effect it is absolutely recommended for problems of insomnia, stress and anemia.
GORILLA GLUE AUTO
BSF Seeds brings one of its best Cannabis Seeds, the Gorilla Glue Auto, "The New Beast of California" in its autoflowering version. This variety in its feminized version has become very famous in a few years due to its great power and its high production standards. The large quantities of resin and the consequent high THC content attract both experts and amateurs of the sector.
The Gorilla Glue Auto is the result of the cross between our 3rd generation autoflowering clone with an elite clone of Gorilla Glue # 4, obtaining a medium-height and easy to grow plant, highly recommended for beginners, because it doesn't need specials care, only requires to be well fertilized to reward with impressive productions. It will give buds of sweet taste, a pine and earth, even a fruit punch in some specimens. With a balanced effect, initially euphoric and then relaxing peacefully. Highly recommended for those suffering from stress, depression and muscle pain.