LEMON BLOSSOM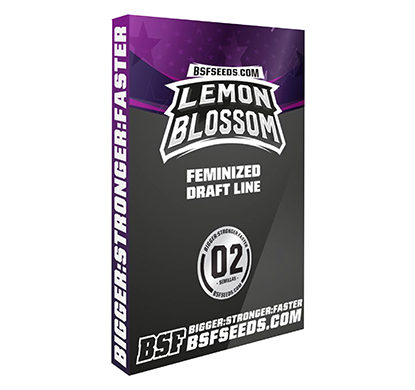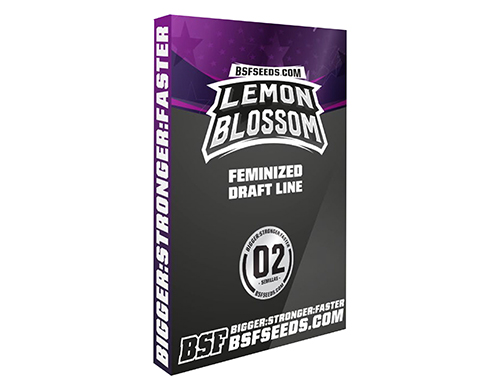 Starting from: 2,68€/pz
Genetics

65% SATIVA | 35% INDICA

Parents

SAN FERNANDO VALLEY OG KUSH X LEMON THAI

THC

HIGH

CBD

LOW

Plant height

MEDIUM HIGH

Flowering time Fem

8-9 WEEKS

Flowering time Auto

75-80 DAYS

Performance within Fem

400-650 gr/m²

Performance outside Fem

450-700 gr/plant

Performance within Auto

450-600 gr/m²

Performance outside Auto

50-300 gr/plant
LEMON BLOSSOM FEM
At BSF Seeds this year they present a cannabis seed variety characterized by its strong citrus flavor, the Lemon Blossom. To create it they acquired the original clone of the legendary San Fernando valley Og Kush, very famous in Los Angeles for its strong citrus flavor and its terpene very much required for the extractions. As a father, another jewel was chosen, a very special selection of Lemon Thai that brings with it its unmistakable smell of lemon trees in bloom. From this union comes out another great Draft Line player.
Lemon Blossom is a hybrid with a predominancy of sativa with a very simple cultivation that makes it required by both novice and expert cultivators. If well fed, especially between the fourth and sixth week of flowering, it offers abundant production. It is advisable to maintain low humidity and high ventilation given the thickness of the flowers. We also remind you that in the flowering phase this plant triples its height, obtaining plants BIGGER, STRONGER, FASTER.
This variety will strongly stimulate your brain, with a motivating effect accompanied by a citrus and lemon flavor. Its medicinal properties make it a perfect variety for treating depression, motivation and mood problems. 
A new sativa for your garden, once cultivated you will never forget it!
LEMON BLOSSOM XXL AUTO
At BSF Seeds they bring a new auto player to our Draft line, the Lemon Blossom XXL Auto, a new generation super fast and productive variety. It is the result of the crossing of our San Fernando Valley Og Kush with the Lemon Thai (lemon blossom), crossed later with our fourth generation Lebron Haze Auto.
The lemon Blossom XXL Auto is a sativa, tall, beautiful, vigorous, productive and very easy to grow plant with a very strong and intense flavor.
The Auto Lemon Blossom XXL is recommended for wet areas due to its resistance to rain and damp places. To get the best performance, we suggest defining a cycle of 20 hours of light / 4 hours of oxen indoors. It loves to be fertilized more than normal and grows like a real monster both indoor and outdoor. Pay attention to the irrigation so as not to make the plants suffer from excess water, as it may slow down their growth and flowering. For the cultivation of this plant pots from 11 to 20 liters are recommended.
Whit no doubt you will remember this variety for its distinctive and recognizable lemon aroma squeezed with shades of earth and pine, which with every puff will imbue your palate with its particular citrus flavor. Its effect begins with a strong cerebral hight followed by an immense happiness, ideal to share with friends.
5,5€ on orders under 59 €
Free shipping on orders over 59€

Payment by:
– Credit or debit card
– Cash on delivery (+ 4,5€)