OBG KUSH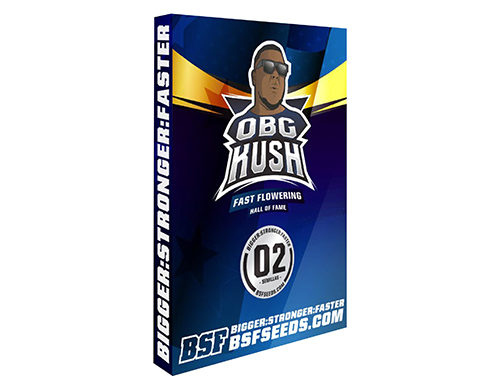 Starting from: 3,50€/pz
Genetics

20% SATIVA | 80% INDICA

Parents

AKAPELLAH X K12 X RELAH

THC

HIGH

CBD

LOW

Plant height

MEDIUM

Flowering time

40-42 DAYS

Performance inside

400-500 gr/m²

Performance outside

350 gr/plant
OBG KUSH
At BSF Seeds we continue to impose trends and present a new representative variety of rap, the OBG Kush Fast Flowering. In collaboration with the Venezuelan rapper Akapellah they have created an indica cannabis seed, fast and strong of which we do not want to reveal the parents to maintain a certain mysticism.
Its name (OBG) comes from the company that represents Akapellah, K12 and Relah; three of the most influential people in Latin American rap.
To create it they have drawn from their reserves the best Kush on the market, worked with the auto parent, always selecting the fastest version. After many tests today we have in our hands the OBG Kush Faster Flowering, with a very short flowering period ranging from 40 to 42 days; this makes it one of the fastest marijuana seeds in the entire market.
This wonderful indica releases a strong sweet, earthy, and at times almost spicy flavor combined with a sedative, relaxing effect that is characteristic of this family.