RED CRITICAL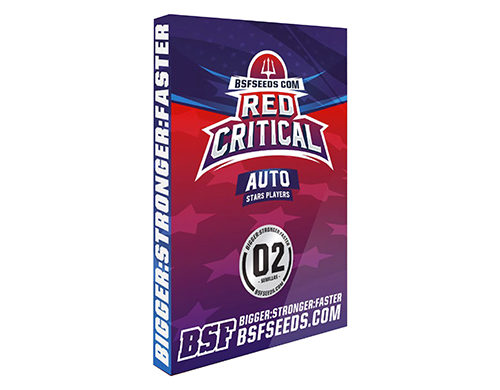 Starting from: 3,50€/pz
Genetics

CRITICAL AUTO

Phenotype

70% RED

THC

MEDIUM

CBD

LOW

Plant height

MEDIUM HIGH

Flowering time

45-50 DAYS

Performance inside

300-450 gr/m²

Performance outside

60-350 gr/plant
RED CRITICAL AUTO
BSF Seeds is proud to present a super producer in its red version, the famous famosa Red critical Auto. This variety is the result of the intersection of Critical Auto with our fourth generation male who gives it its red color. This, in its feminized version, managed to reach the Olympe of cannabis in a short time, being recognized for its speed, strength and production.
Red Critical Auto has strong red and purple tones that turn it into a beauty to the eyes of any observer. Its stature is medium-high, very easy to grow as it does not require special care. It offers huge, heavy and resinous buds, making it necessary to use guardians at the end of the flowering. Attention must be paid to the humidity levels within the crop, as the density of its shoots is the ideal place for mold growth..
Red Critical Auto has a strong floral aroma, sweet, very pleasing to the palate, which perfectly combines with a powerful hight cerebrale, hich leads to a pleasant feeling of relaxation.