SIG SOUR XXL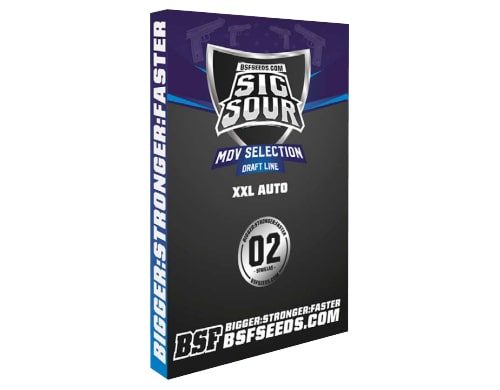 Starting from: 5,55€/pz
Genetics

80% SATIVA | 20% INDICA

Parents

SOUR DIESEL AUTO

THC

25-30%

CBD

LOW

Flowering time

70 DAYS

Indoor

400-500 g/m2

Outdoor

50-180 g per plant
Sig Sour XXL Auto
For this kind of seed, BSF Seeds sought the most powerful genetics in automatic version, to give birth to a vigorous plant, easy to cultivate, with a rapidity of flowering that many envies. A plant of Sig Sour XXL will reach its maximum flowering in just over a month. For even more big production, the yield of this plant can be maximized by placing the seed in 10-20 litter pots in a quite unique environment.
The inflorescence will have that diesel smell typical of this seed family and the flavor will also take on it a few of taste, balancing it with a refreshing citric taste. In the end, the effect is what is sought by those who love sativa, with a light and enduring high feeling.
Vigorous, strong, powerful. This seed will certainly not leave you indifferent.