ALL STARS USA AUTOMIX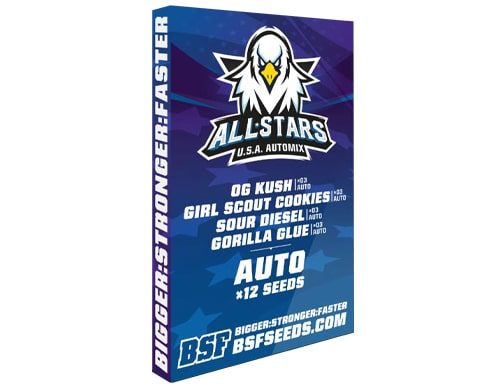 50,00€
You cannot miss this one! Where else in the universe is it possible to find the great four icons of the cannabis world coming from the USA at this price?
OG Kush Auto
The "Kush grown in the ocean" straight from California coasts landed here in the auto version, resulting in a seed easy to cultivate, but in addition suitable for small spaces. Do not get confused by the dimension: it's a strong plant with resistant branches and heavy flowers full of resin. Ideal for a breeder with no experience! Having inherited the traits of the Indica strain, this plant helps to relax after a stressful day, while enjoying the sweet taste, brighten up by notes of pepper and earth.
Genetics

30% SATIVA | 70% INDICA

Parents OG KUSH

THC

18%

CBD

LOW

FLOWERING PERIOD 70

-75 DAYS

INDOOR

400-450 g/m2

OUTDOOR

60-200g/PLANT
Girl Scout Cookies Auto
Another one coming from the Californian coasts, the Girl Scout Cookies Auto is the outcome of a cross between two cannabis seeds symbols of this area with a Ruderalis variety, from which this strain inherited the solidity and the scarce need for care of the plant. If you want an optimal yield and inflorescences filled with resin, it is necessary to profusely water the plant, from the very beginning. After that, when the flowers start to sprout it is recommended to use an air filter, because the typical aroma of biscuit and chocolate will be notable. Equally vivid the sweet taste and the engaging effect, which involves the whole body from mind to the rest in a totalizing sensation.
Genetics

40% SATIVA | 60% INDICA

Parents

WEST COAST OG X DURBAN POISON

THC

18%

CBD

LOW

FLOWERING PERIOD 65

 DAYS

INDOOR

350-450 g/m2

OUTDOOR 70

-200g/PLANT
Sour Diesel Auto
This strain with powerful, psychedelic and long-lasting effects needs no introduction. By means of a crossbreeding it was created a strain suitable for indoor cultivation, because it reaches only a medium height and it is very compact in shape. It also does not require cultivation precautions if not the need for not excessive, but constant fertilization over time. The taste is given away by its name - Diesel – because it does recall scents of petrol, although accompanied by hints of lemon and tangerine.
Genetics

80% SATIVA | 20% INDICA

Parents

SOUR DIESEL

THC

22%

CBD

LOW

FLOWERING PERIOD

70 DAYS

INDOOR

400-450 g/m2

OUTDOOR

50-170g/PLANT
Gorilla Glue Auto
It is called "The New Californian Beast" for a reason, actually two: the powerful effects, which begin with euphoria that slowly slides into relax and the yield of the plant, that will leave even the more experienced cultivators open-mouthed. The automatic version allows everyone to obtain large, luxuriant and resin-rich inflorescences, if the seed is provided with adequate fertilization. In addition to all of that, this iconic variety with its characteristic flavor of pine and earth, softened by sweet and persistent notes of fruit ponchos, does not require any special care to grow strong and beautiful.
Genetics

40% SATIVA | 60% INDICA

Parents

GORILLA GLUE #4

THC

21%

CBD

LOW

FLOWERING PERIOD

65 DAYS

INDOOR

350-500 g/m2

OUTDOOR

50-300g/PLANT