DREAM TEAM FEMINIZED MIX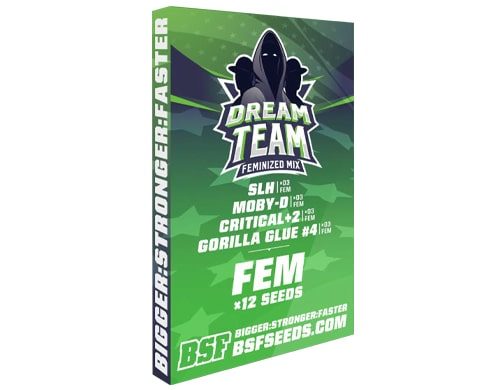 44,00€
This kit comes from a research for the fastest, most resistant and fruiting feminized cannabis seed varieties, resulting in the selection of the four stars of the fem élite: Super Lemon Haze, Moby-D, Critical +2 and Gorilla Glue # 4. Four different experiences, but all of them of the highest quality at very competitive prices.
Super Lemon Haze
In just 9 weeks, our award-winning Super Lemon Haze can give you a very abundant harvest, with all the aroma's nuances typical of this great classic: from citric to incense, with a touch of black pepper to make everything more spicy. If all of this wasn't enough, the euphoric effect makes it suitable for any situation. The Sativa genetics plants can be recognized from the elongated shaped leaves and because it develops mainly in height. However, the fact that the internodal distance is rather narrow makes the plant also suitable for scrod cultivation and pruning.
Genetics

80% SATIVA | 20% INDICA

Parents

LEMON SKUNK X SUPER SILVER HAZE

THC

19%

CBD

LOW

FLOWERING PERIOD

9-10 WEEKS

INDOOR

450-700 g/m2

OUTDOOR

1000-1200g/PLANT
Moby D
An out of the ordinary strain, thanks to its parents' best features. The surprising flowering speed is due to his father White Widow notwithstanding the sativa nature inherited by his mother, the famous Jack Herer, whose main characteristics are the iridescent flavors of lemon, pine and even earth and the unmistakable euphoric effects. The White Widow is also responsible for its resistance and ease of cultivation, which make these plants accessible: to reach another dimension is possible even for absolute beginners!
Genetics

80% SATIVA | 20% INDICA

Parents

JACK HERER X WHITE WIDOW

THC

19%

CBD

LOW

FLOWERING PERIOD

10-12 WEEKS

INDOOR

500-600 g/m2

OUTDOOR

1000-1200g/PLANT
Critical +2
Let yourself be carried away by this variety's sweet flowers flavors, that occupies an important place in the panorama of cannabis plants not only as it is universally loved, but also because the resistance and ease in growing the plant have contributed to its spread in use. Get ready for a copious production of branches, flowers and resin, which often requires an external support to sustain the weight at the peak of ripening. A fundamental rule is then to control humidity well, as the density of the inflorescences make them ideal prey for fungi and molds. Finally, we recommend a filter for the very strong smell emanated from leaves and flowers. It must be admitted that few varieties have the effect of Critical +2, in which a powerful euphoria fades into an extreme relaxation feeling, through different shades of unparalleled sensations.
Genetics

60% SATIVA | 40% INDICA

Parents

BIG BUD X SKUNK

THC

18%

CBD

LOW

FLOWERING PERIOD

9-10 WEEKS

INDOOR

500-600 g/m2

OUTDOOR

600-1000g/PLANT
Gorilla Glue #4
Called "The New Beast of California", surely the name says it all. She has climbed all the charts and integrated amongst the cannabis icons because it has all that a breeder can wish for: blooming is quick and in a short time you'll have flowers so rich in resin to deserve the "Glue" part of the name; the plant is particularly resistant to external agents such as mold and fungi. The original flavor of Gorilla Glue is maintained, with typical hints of chocolate. The effect is complex and interesting because it passes seamlessly from a state of euphoria to a pleasant sensation of relaxation.
Genetics

70% SATIVA | 30% INDICA

Parents

CHEM SISTER X SOUR DUBB X CHOCOLATE DIESEL

THC

27%

CBD

LOW

FLOWERING PERIOD

9 WEEKS

INDOOR

500-600 g/m2

OUTDOOR

1000-1200g/PLANT