EL GAUCHO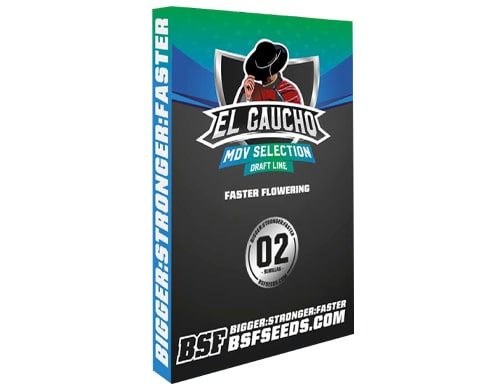 Starting from: 3,50€/pz
Genetics

30% SATIVA | 70% INDICA

Parents

SIERRA MADRE X BLUE MOUNTAIN

THC

18-22%

CBD

LOW

Flowering time

6 WEEKS

Indoor

500-600 g/m2

Outdoor

350-800 g per plant
El Gaucho Fast Flowering
How many times have you thought that what you needed was a well-deserved moment of relaxation? This is the reason why El Gaucho Faster Flowering has arrived. As a result of careful research of several years in the major plantations of South America, BSF Seeds is pleased to include its new spearhead in its arsenal, in a workmanlike manner hybridization between Sierra Madre and Blue Mountain.
If the flowering is fast, in just six weeks, as for the other Fast Flowering, its flavor is not common, fruity and slightly sweet, which adds a delicate touch to the relaxing effect. This is countered by the strength and resistance of the plant, capable of surviving the weather and, most of all, to all attack of insects and fungi.
Due to these unique characteristics, the El Gaucho Faster Flowering seed cannot be missing in your collection.