GORILLA GLUE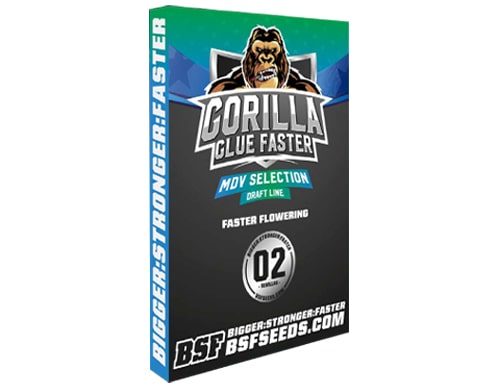 Starting from: 3,50€/pz
Genetics

70% SATIVA | 30% INDICA

Parents

GORILLA GLUE #4

THC

18-22%

CBD

LOW

Flowering time

40-42 DAYS

Indoor

500-600 g/m2

Outdoor

700 g per plant
Gorilla Glue Faster
The success and satisfaction of this wonderful genetics and its effects, known in the feminized and autoflowering version, had not gone unnoticed. Therefore, BFS has decided to expand the collection, preserving the winning features of the Gorilla Glue and creating a new Fast-Flowering version. In this way, the same quality of the feminized and autoflowering versions is available in about 40 days, the time it takes for the Gorilla Glue Faster to flower.
In addition to greater attention in the flowering phase, exclusively to obtain the maximum of the plant, the cultivation is simple, to obtain those inflorescences appreciated worldwide for the peculiar smell and taste and for the first euphoric effect and then relaxing.
If you have already tried the other versions, why not try this one?