DEALER DEAL XXL AUTOMIX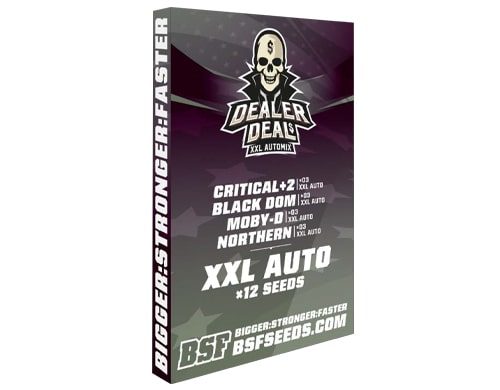 40,00€
This mix is composed of four seeds varieties (Critical +2 XXL Auto, Black Dom XXL Auto, Moby-D XXL Auto and Northern XXL Auto), whose main feature is the flowering speed, while maintaining a very high quality. Ideal for those who want to try a mix of varieties with exceptional yield at advantageous prices.
Critical +2 XXL Auto
Maintaining the Critical +2 sweet taste, with light lemon hints, this automatic version stands out for its speed of flowering, while having compact dimensions. It is extremely resistant to both cold and heat, so it does not require special care. For this reason, it is very suitable for beginners, its relaxing and long-lasting effect is perfect for an evening without overdoing it.
Genetics

40% SATIVA | 60% INDICA

Parents

MOBY D

THC

18%

CBD

LOW

FLOWERING PERIOD

55 DAYS

INDOOR

300-400 g/m2

OUTDOOR

100-300g/PLANT
Black Dom XXL Auto
Perfect for Indica lovers, this strain, coming from an original clone of the Afghan Black Dom together with powerful automatic genetics, will not disappoint you in any way. On the one hand, the flavor is intense, almost earthy with a pleasantly relaxing effect, on the other, this medium-sized plant has a stunning yield, although it does not require any particular care. This strain originated in the Hindu Kush mountains is in fact very resistant to mold, fungi and even parasites that could cause diseases. A perfect choice for the novice breeder!
Genetics

20% SATIVA | 80% INDICA

Parents

BLACK DOM

THC

18%

CBD

LOW

FLOWERING PERIOD

50-55 DAYS

INDOOR

200-400 g/m2

OUTDOOR

50-450g/PLANT
Moby D XXL Auto
If you are looking for a cannabis variety to get a super yield, Moby - D XXL Auto is certainly the one product to buy. The cross between the 3rd generation Automatic Moby - D with a 3rd generation haze, gave life to a rather tall plant, with great yield and very resinous flowers. For this reason, for indoor cultivation it is necessary to have adequate space and outdoor, the pot should be of at least 11 liters, so that it can freely grow and reach the maximum vigor. In addition, it must be modestly but very frequently fertilized because this cannabis strain needs a lot of resources to give its best! Like the classic Moby - D, the flavor is citrus with some pine notes, while the effect is powerful, a charge of energy, followed by great hunger!
Genetics

80% SATIVA | 20% INDICA

Parents

MOBY D

THC

18%

CBD

LOW

FLOWERING PERIOD

75 DAYS

INDOOR

300-500 g/m2

OUTDOOR

60-250g/PLANT
Northern XXL Auto
How could one of the most popular cannabis varieties in the world be missing in this kit? Northern XXL Auto compensates for the higher request of attentions to the breeder, with a yield and a flavor that conquered the United States first, soon followed by the Netherlands. More delicate than the others, it is better for indoor use to undergo a single transplant and, above all, it has to be ensured with a 20 hour daily light cycle, followed by 4 of total darkness. The plant's discreet smell during growth, its sweetly earthy flavor and the feeling of quiet relaxation will reward you for the care.
Genetics

20% SATIVA | 80% INDICA

Parents

NORTHERN

THC

18%

CBD

LOW

FLOWERING PERIOD

50-55 DAYS

INDOOR

240-450 g/m2

OUTDOOR

65-350g/PLANT