GREEN TIGER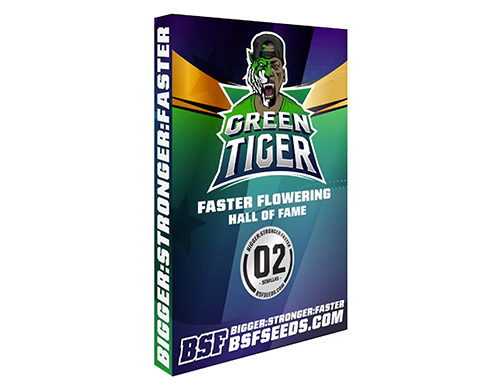 Starting from: 3,50€/pz
Genetics

20% SATIVA | 80% INDICA

Parents

(EARLY SKUNK X SKUNK) X SKUNK P90

THC

HIGH

CBD

LOW

Plant height

MEDIUM

Flowering time

40-42 DAYS

Performance inside

500-600 gr/m²

Performance outside

400-600 gr/plant
GREEN TIGER
Once again BSF seeds is filled with joy and satisfaction by presenting a new star that enters the Hall of Fame, the great Green Tiger. This variety has been developed in honor of one of the greatest rappers in the world, Orginal Juan. Following their tastes we have crossed our elite Early Skunk x Skunk P90 clone and combined it with one of our flowering giving to it all the speed we want.
This variety will give you great productions in a very short time, even supporting the harshest climates. Its full potential can be exploited if it is kept well fertilized, reaching indoor yields close to 600 g / m2, in just six weeks. It has a very short growth and is similar to the one of the pine. We recommend it for wet areas due to its great resistance to fungus.
Green Tiger will leave you struck by its suo strong sweet and fruity taste, like a like a fruit punch. Its indica origin and medicinal value promote it as a perfect variety for the treatment of food problems, insomnia, muscle pain, headache and vomiting, among others.