PSYCHO XXL AUTOMIX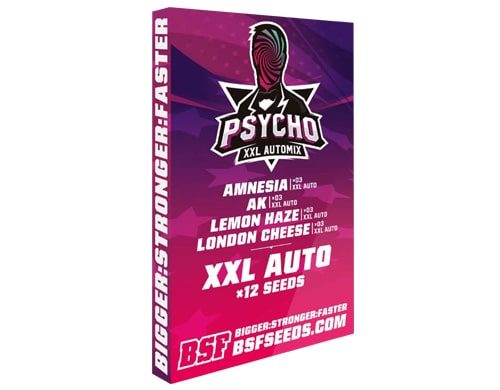 44,00€
A mix of 4 different seeds, all with a special psychedelic effect that will fly you to the moon and back. Amongst them all, we chose the four automatic Sativa varieties that could give an abundant crop in no time. A fast and crazy mix for your free time!
Amnesia XXL Auto
When it came to Sativa, it was impossible not to include the automatic version of Amnesia, which retains its typical flavor of haze, lime and pine, its particular effect that pleasantly involves the mind, while adding to these features an exceptional resistance to pests and plant diseases. Moreover, this cross ensures rapid flowering and a very abundant harvest without the need for supports, since the plant hinges on a robust and heavy central branch that is perfectly able to balance the weight of the many inflorescence.
Genetics

80% SATIVA | 20% INDICA

Parents

AMNESIA AUTO X SELECTED MALE AUTO

THC

19%

CBD

LOW

FLOWERING PERIOD 75

-90 DAYS

INDOOR

400-500 g/m2

OUTDOOR

60-250g/PLANT
AK XXL Auto
You can immediately spot it for the strong smell of the inflorescences, but also for the intense cerebral effect, for which the automatic version of AK has earned a place in this kit. This version combines the high yield of this variety with the ease of cultivation and maintenance of this medium-large plant. Born from a cross between interesting cannabis varieties from Thailand, Afghanistan, Colombia and Mexico, its flavor has a prevalent sweet base, sometimes spiced by a citric note.
Genetics

60% SATIVA | 40% INDICA

Parents

AK 47 X SELECTED MALE AUTO

THC

18%

CBD

LOW

FLOWERING PERIOD 70

 DAYS

INDOOR

500-600 g/m2

OUTDOOR 50

-70g/PLANT
Lemon Haze XXL Auto
Haze lovers will be satisfied with this kit as well, since it contains the symbol of the haze variety. The auto version this seed adds to the exceptional yield, which already had, the speed and the easiness to breed the plant. To get these great results, the plant needs a very large space from the beginning and a well-nourished soil. What is most appreciated about this haze is the long-lasting brain engagement that makes it very suitable for a moment with friends. The lemon and pine flavor will complete this extraordinary sensory experience.
Genetics

80% SATIVA | 20% INDICA

Parents

JACK HERER AUTO X LEMON HAZE

THC

18%

CBD

LOW

FLOWERING PERIOD

75 DAYS

INDOOR

300-550 g/m2

OUTDOOR

60-330g/PLANT
London Cheese XXL Auto
The auto version revealed itself particularly successful for the London Cheese XXL Auto, which shows record blooming times and turns taking care of this plant in a very easy task, even for inexperienced breeders. The plant consists of a large central branch, from which many smaller branches depart at the same height and it requires a substantial fertilization at the third week, becoming smaller and smaller until the birth of the flowers. The latter are characterized by a strong smell, recalling a seasoned cheese. In case of indoor cultivation, we recommend the use of a special air filter. Cheese, especially Roquefort, is also felt on the palate, spaced out with sweet notes. An euphoric effect that lasts long and that engages the whole mind. It is renowned to especially help the release of inspiration and imagination. 
Genetics

70% SATIVA | 30% INDICA

Parents

CHEESE AUTO X MASCHIO SELEZIONATO AUTO

THC

20%

CBD

LOW

FLOWERING PERIOD

70 DAYS

INDOOR

350-500 g/m2

OUTDOOR

80-200g/PLANT