Modified on: 26/08/2022
Here is how rockwool is used in the cultivation of hemp
Many cannabis lovers wonder where to find ideal cannabis seeds for rock-wool cultivation: but are you sure you want to grow marijuana seeds in rockwool cubes? Before you do, there are a few things you should know.
First of all, growing cannabis in Italy is illegal: the hemp plant produces inflorescences containing THC, the active ingredient of marijuana, which is illegal in percentages above 0.5%. For this reason, the cultivation of hemp is prohibited, even if it is no longer a criminal offence in case of small cultivation for personal use: what is legal is instead to sell and buy cannabis seeds. But what is the reason?
You should know that weed seeds do not contain THC in themselves and an inactive state is therefore considered in the same way as the common seeds of other types of plants.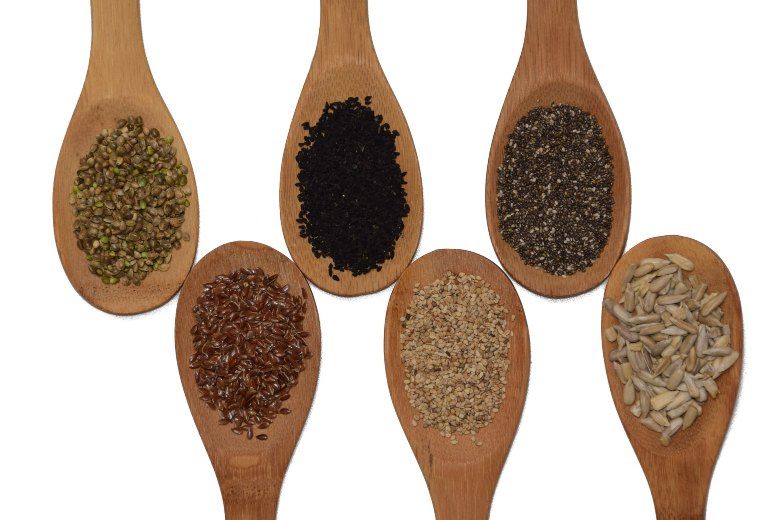 The legal problem arises when they are germinated, as they would give birth to a hemp plant that would produce flowers with a high THC content.
So, if you are wondering where to buy marijuana seeds, the answer is in a grow shop, physical or online, such as SensorySeeds, and if you want to germinate them, you take a significant risk. Theoretically, the uses of marijuana seeds in Italy are as follows:
Collecting
Food use
Food for birds and rodents
Fishing bait
The use of stone wool as a substrate for the cultivation of hemp is a very particular technique and has, like all the others, pros and cons. Let's see what it consists of and what are the advantages and disadvantages of growing cannabis seeds in rock-wool.
Read also: 3 reasons to prefer female marijuana seeds to male ones
Growing cannabis seeds in rockwool: what is it and what are the advantages and disadvantages of using it
You've probably already heard of rock-wool but didn't know it was also used to grow cannabis seeds and it wouldn't be so strange if you didn't have the slightest idea what it is. Rockwool cubes are, contrary to popular belief, an artificial product, created by man to imitate a typically Hawaiian natural phenomenon.
Pele's hair is basaltic glass filaments born from the volcanic eruption of Kilauea, in the Hawaii islands. Due to the strong wind, the lava solidifies into a filamentous form that resembles blond hair, just like that of the god Pele. Artificially, therefore, this natural process is reproduced, solidifying basalt slag in filamentous form, using air flows, to obtain rock wool cubes.
The advantage of this type of substrate for the cultivation of cannabis seeds is linked to its humidity gradient, capable of retaining and distributing all the nutrients nebulised on it homogeneously. However, rock-wool tends to dry quickly on the surface, remaining more humid on the ground, so it should be continuously monitored.
Another great advantage of rock-wool cubes for growing marijuana seeds is that they can be placed in larger cubes as the plant grows, without disturbing its roots in any way. It will avoid having to move the cannabis seedlings from one pot to another, protecting their good health.
This type of substrate is very often used in professional hydroponic marijuana crops because of the absorbing power of its filaments. However, if it goes well in professional hydroponic systems, it presents risks in the management of home growing, which is legal in some municipalities of Spain.
The absorbing power of the filaments is a double-edged sword: if poorly handled it can lead to overloading of liquids underneath or excessive dryness since in a few hours they tend to slip away. If used outside of a hydroponic system, rockwool should be followed very carefully from this point of view, both to prevent it from staying dry for too long and not to have an overload of nutrients in the plant.
Now let's see what the main steps are for growing ganja seeds in rock-wool.
Growing cannabis seeds in rockwool – that's how to do it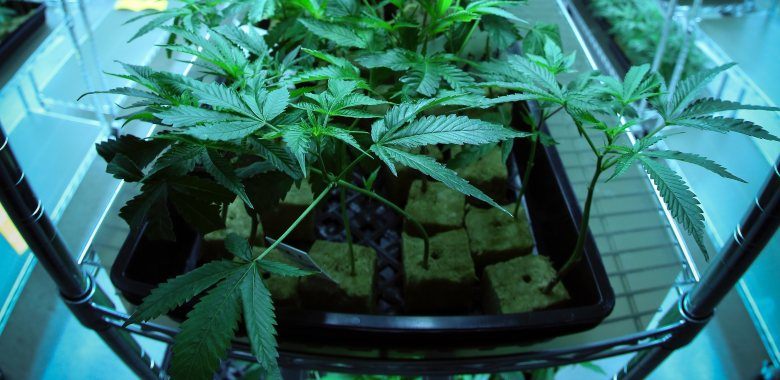 As said before, growing weed seeds is not legal in our country, as they would lead to the production of high THC flowers. However, there have been cases where the law allows the home growing of marijuana for personal use, as it happens in some cities in Spain.
If you were to choose to grow marijuana seeds in rockwool cubes, you would first need to know how to handle this type of substrate. While it has a high absorbency power, it also has a rapid "slip" of liquids underneath, which you should keep under control to avoid nasty surprises.
First of all, you should know that rockwool has an average pH of 7, which is too alkaline to grow cannabis seeds, so it needs to be treated before using it. What you need to do is to soak the rock-wool cube in a nutrient solution with pH at 4.5 and CE (electrical conductivity) at 0.4-0.5, to stabilise the PH of the cube properly.
To be sure that you have obtained the appropriate value for growing marijuana seeds, the cube must be soaked in a nutrient solution with pH 5.5 and the PH of the runoff from the filaments measured: if it remains the same, it is ready. On the contrary, if it is still too high, it will be useful to re-immerse it in the first solution for a few hours and then redo the test until the desired PH is reached.
Once this is done, you can finally place the cannabis seed in the rockwool cube, after having previously soaked it in warm water or moistened it in the previous 24 hours using absorbent paper, all strictly in the dark. Once activated, in a few days the maria seed will hatch and the first cannabis bud will be born, which will soon open its cotyledons, the first two round leaves, and will harpoon its rootlets to the filaments of the cube.
As soon as the seed is placed in the rock-wool, it will be useful to keep it at a constant temperature of 20°-25°, which can be obtained if necessary, with a suitable lamp, lit above the cube. Maintaining humidity is very important, so unless you have created an automatic hydroponic system, you will often need to check the level of impregnation of the stone wool cube.
Once well rooted, the hemp seed can be relocated, without having to extract it from the first one, in a larger rockwool cube, previously treated as we have seen before. At this point, the hemp seedlings will be ready to be exposed to artificial light in a cultivation room.
Read also: Autoflowering seeds germination time
Where to buy cannabis seeds suitable for growing in stone wool?
As you have read in this article, growing cannabis seeds in stone wool has its pros and cons. Its use is certainly more suitable for professional crops. Still, there is nothing to prevent it from being used at home, in countries where the cultivation of marijuana seeds is allowed, with adequate attention.
If you are wondering where to find marijuana seeds suitable for this type of cultivation, the answer is SensorySeeds, our online cannabis seed shop. Inside you'll find lots of weed seeds BSF, from feminized seeds to auto flower seeds, as well as fast flowering seeds.
You'll be spoilt for choice, and you'll be able to receive the best cannabis seeds directly to your home in a few days and in totally anonymous packaging to preserve your privacy.
So, what are you waiting for? Click here and enter SensorySeeds, the online shop with the best cannabis seeds on the market!