RAINBOWS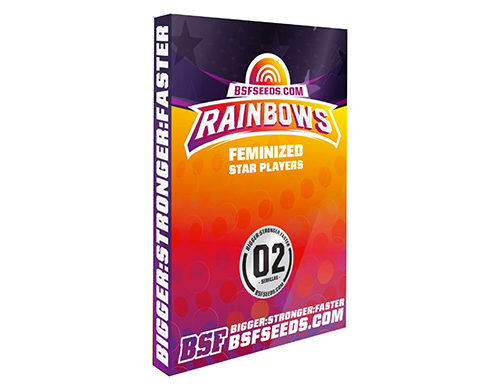 Starting from: 4,17€/pz
Genetics

80% SATIVA | 20% INDICA

Parents

CINDERELLA 99 X SLL OG

THC

MEDIUM

CBD

LOW

Plant height

LOW

Flowering time

8-9 WEEKS

Performance inside

400-450 gr/m²

Performance outside

200-700 gr/plant
RAINBOWS FEM
At BSF Seeds they continue to innovate, this time bringng a cross between Zkittlez X Zkittlez, the wonderful Rainbows. Zkittlez, for the uninitiated, is a popular quay in the United States, born from the result of the cross between Grape Ape X Graperfruit, a very particular variety that gives it its characteristic taste and sweetness. His daughter Raibows acquires two characteristics of the lineage from which its name comes after. Firstly, its  marked taste of fruit cocktail that ends with nuances of sweet grapefruit; secondly the multiplicity of colors that can be appreciated, with touches of purple, lilac, pink and green.
This variety has a very low structure, of an indic appearance and responds very well to pruning, with a small internodal distance, but with high nutritional requirements to realize its full potential. It is important to pay attention to this variety if it is planted indoors, because the Rainbows can double their size, generating very generous productions.
This "candy" is highly recommended for both recreational and medicinal purposes due to its long-lasting relaxing effect. It also has a strong aroma, because it keeps all its terpenes with which wonderful extractions are obtained.