GORILLA BANANA SensorySeeds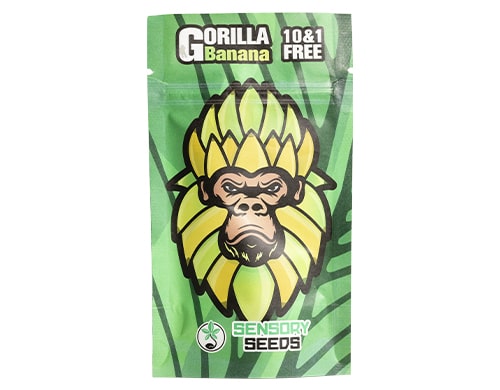 Starting from: 2,64€/pz
Genetics

Gorilla glue 4 and Banana Punch

Sativity

40%

THC

25%

Indoor yield

450 - 550 g / m2

Outdoor production

700 g / plant - 1 kg / plant

Flowering

8 weeks

Effect

sedative, sleeping pill
Gorilla Banana SensorySeeds
Finally available on SensorySeeds another variety of Bulk Seeds, always part of the Gorilla family.
The novelty offered this time consists in the sale of bulk seeds, directly packaged by us, for a total of 11 bulk seeds (10 + 1 free) of Gorilla Banana, of the Feminized variant.
A connoisseur's delight BSF Seeds' new proposition, Gorilla Banana Feminized is one of those strains you might want to keep for special occasions. Not yet very well known on the market, we already believe that it will soon become an increasingly popular variety, able to seduce everyone with its tropical charm!
Its flavor leaves the palate rich in tropical flavors, the aroma is reminiscent of sweet banana fruit with earthy notes, its taste will be very difficult to forget. Its characteristic scent never goes unnoticed and it is a variety that helps improve mood and fight insomnia.
It has a THC level that is between 22 and 25.
You just have to try the new SensorySeeds bulk seeds!