DOUBLE COOKIES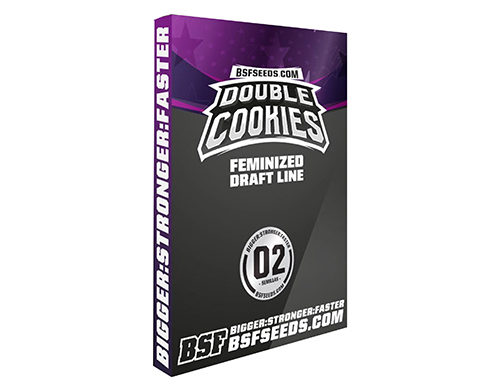 Starting from: 3,92€/pz
Genetics

30% SATIVA | 70% INDICA

Parents

DO SI DOS X COOKIE FORUM CUT

THC

18-22%

CBD

LOW

Plant height

MEDIUM

Flowering time Fem

7-8 WEEKS

Flowering time Auto

8-9 WEEKS

Performance within Fem

400-500 gr/m²

Performance outside Fem

50-280 gr/plant

Performance within Auto

400-500 gr/m²

Performance outside Auto

50-280 gr/plant
DOUBLE COOKIES FEM
From BSF Seeds we note that they often look for what they would like to smoke and create it. On this occasion we are very proud to present the Double Cookies, one of the new arrivals in the Draft Line. This cannabis seed comes from the cross between two American large caliber genetics: the Do-Si-Dos as mother and the elite clone Forum Cut as father. Double Cookies is the is the double biscuit that you will never be able to forget.
Double Cookies is a plant with a high production and full of trichomes, thanks to the inheritance of the father. Its specimens reach up to the 25% of THC, which makes it particularly suitable for extractions  (at its cutting point it looks like a snowy mountain). This plant is an easy to grow indica / sativa hybrid with small internodal nodes.
This copy contains the true taste of the famous Girl Scout Cookies genetic; an intense flavor of baked biscuits and mint that remains on the palate for several minutes. After the first puffs you will immediately feel happiness and euphoria which will lead to big laughter and then envelop you in its narcotic effect. These characteristics make it particularly recommended for the treatment of chronic pain, post-traumatic stress and muscle cramps. Double Cookies is without a doubt the new jewel of BSF!
DOUBLE COOKIES AUTO
With the arrival of the Fem, the automatic version could not fail to arrive, from the unmistakable taste of biscuit that makes it speak in the USA the BSF is pleased to present the Double Cookies Auto. This new variety expresses BSF's desire for the innovation in the cultivation of automatics. This seed of Mariujana is the result of the crossing of an elite Do-Si-Dos clone used as a mother and Girl Scout Cookies Auto as a father. This indica / sativa hybrid preserves all the much sought after taste of the father's biscuits.
Double Cookies Auto is a plant of easy cultivation, high production and short cycle, which in just 8-9 weeks will be ready to be cut. During flowering its buds are particularly rich in trichomes, even reaching 25% of THC. Its structure is characteristic of the indica qualities, with a large central head, side branches at the same height and touches of purple on the leaves.
Double Cookies Auto has a sweet mint flavor with touches of lime and pine that will not go unnoticed. Also pay attention to its strong effect that will leave you happy for hours. Regarding its medicinal value, this variety is particularly recommended for treatments against depression, spasms and muscle pains.