GORILLA GLUE #4 SensorySeeds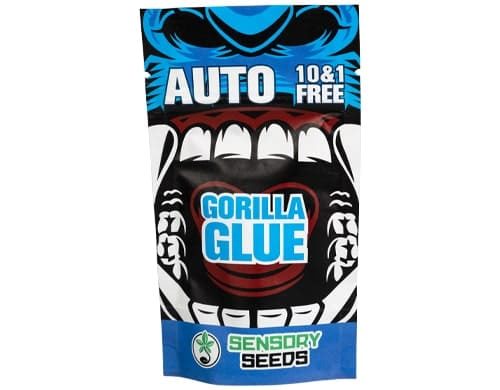 Starting from: 2,64€/pz
Genetics

70% SATIVA | 30% INDICA

Parents

CHEM SISTER X SOUR DUBB X CHOCOLATE DIESEL

THC

HIGH

CBD

LOW

Plant height

MEDIUM

Flowering time Fem

9-10 WEEKS

Flowering time Auto

9-10 WEEKS

Performance within Fem

500-600 gr/m²

Performance outside Fem

1000-1200 gr/plant

Performance within Auto

350-500 gr/m²

Performance outside Auto

50-300 gr/plant
GORILLA GLUE #4 SensorySeeds
Sensory Seeds has a nice new to all its customers, as well as enthusiasts, experts, or also amateurs of the sector. A special place in the world of cannabis and all of its
aspects are dedicated to Gorilla Glue # 4. This variety, also known as "The new California beast" comes from a very powerful variety whose effects are remarkable and give to the plant this kind of name, more than deserved.
The SensorySeeds shop now can sell, as a big novelty, bulk seeds directly packaged by us, for a total of 11 bulk seeds (10 + 1 free) of Gorilla Glue # 4, both feminized than autoflowering.
 The seeds of this cannabis plant are impressive for the speed of their flowering and especially for the resistance to external agents, fungi or parasites, at whose risk they are generally subjected. Gorilla Glue # 4 does not bend, it generates the opposite effect.
Its cannabis seeds come from the cross between Chem Sister, Sour Dubb and Chocolate Diesel and originate an even more interesting modern version. In addition to maintaining all the inherent characteristics of the original variety, the seeds are able to provide an exorbitant and surprising resin production during the flowering phase. An exceptional product! Its name "Glue" comes from here, because the scissors, during the processing and pruning phase, literally stick to the plant, as if there really was some glue.
Thanks to the unique and exclusive package, made by us, 11 seeds will be more than enough to build up a well-uniform and solid branched structure, generally starting with a vegetative period of 3 weeks.
The formidable presence of resin in its buds will be the reason for a high concentration of THC, which can even lead to extractions reaching up to 30%.
The unquestioned effects of Gorilla Glue start from strong feelings of euphoria destined to descend slowly into an excessively pleasant state of relaxation. Earthy and chocolate flavors can only accompany this endless fall into a world made of tranquility and serenity.
You just have to try the new SensorySeeds bulk seeds!