MOBY D XXL AUTO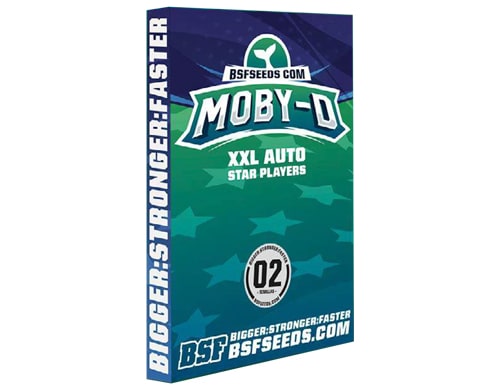 Starting from: 3,50€/pz
Genetics

MOBY-D

Sativity

80%

THC

18%

Indoor Production

350-500 g / m2

Outdoor Production

60-250 g / plant

Flowering

75-80 DAYS

Taste

CITRUS, PINE, MIST, WOOD
Moby D XXL Auto
BSF SEEDS surprises you again with the latest Sativa-dominant genetic trend on the market, the Seed Bank creates the Moby-D XXL Auto for you.
Like its feminized sister Moby-D, this variety retains all the characteristics that have made it so popular, but with the speed of an autoflower. To obtain this strain, the BSF growers experts crossed the 3rd generation autoflowering Moby-D with the 3rd generation autoflowering Haze variety and the result was a productive and very resinous type of plant, perfect for both indoors and outdoors.
Moby-D XXL Auto retains the full and intense scent of the original Moby-D, with citrus, pine and spice flavors. It has a marked and incisive aroma, certainly an extremely psychoactive Sativa type, sometimes euphoric and energetic.