ORANGE BLOSSOM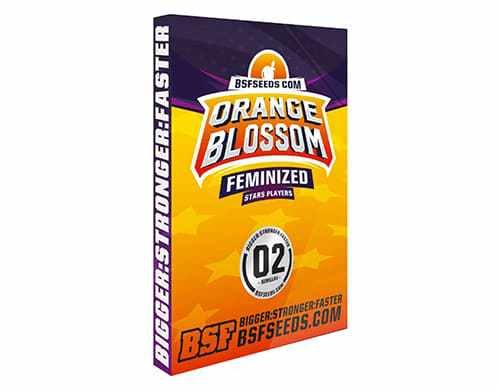 Starting from: 3,92€/pz
Genetics

70% SATIVA | 30% INDICA

Parents

CALI ORANGE X SKUNK

THC

HIGH

CBD

LOW

Plant height

MEDIUM HIGH

Flowering time Fem

9-10 WEEKS

Flowering time Auto

75-80 DAYS

Performance within Fem

500-600 gr/m²

Performance outside Fem

500-700 gr/plant

Performance within Auto

400-600 gr/m²

Performance outside Auto

50-300 gr/plant
ORANGE BLOSSOM FEM
At BSF Seeds we present a unique and special cross. After many of the studies they managed to get a stable cannabis seed with an orange / tangerine flavor, the very red Orange Blossom!
We thought it would never see the light. As a result of our collaborations with collectives and seed banks around the world, we have been able to select and stabilize the most fruitful specimens, with a predominance of orange / tangerine.
The Orange Blossom is the result of the cross between our Orange California X clone and our Skunk pre 90. The predominant sativa gives to the variety a very open stable structure, so it is advisable to do the pruning to keep it under control being it a perfect variety for being cultivated with Scrog or Sog. To take full advantage of this plant we should keep it in optimal conditions, trying to maintain good nutrition, ensuring generous harvests.
ORANGE BLOSSOM XXL AUTO
BSF Seeds presents Orange Blossom XXL Auto. Starting from our original mother of Orange Blossom. In the BDF Seeds labs we have developed this wonder in its XXL Auto version. This marijuana seed has been worked for four generations with our autoflowering variety, obtaining a medium-high plant, very generous and easy to grow. Despite this, it is important to pay attention at the initial phase, as stress could stop its development.
Orange Blossom XXL Auto is a variety with a high THC content to be an autoflowering seed, which reaches up to 22% THC, bringing a feeling of happiness and euphoria that increases creativity and relieves stress. Finally, let's not forget its incredible citrus and mandarin flavor which makes it a perfect specimen to add to the buffet of flavors and smells.