WHITE GORILLA SensorySeeds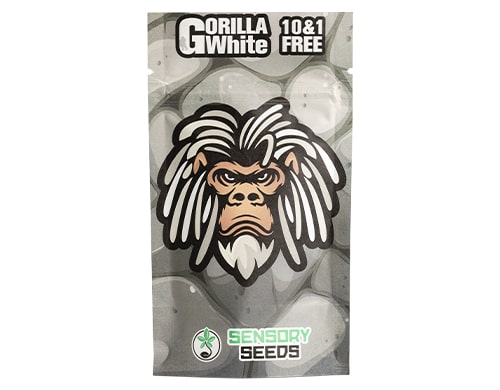 Starting from: 2,64€/pz
Genetics

Gorilla glue 4 and White Widow

Sativity

20%

THC

25%

Indoor production

400 - 500 g / m2

Outdoor production

1 kg / plant

Flowering

8 weeks

Taste

earthy, sweet, citrine
WHITE GORILLA SensorySeeds
The White Gorilla joins the SensorySeeds family, in the classic formula by now appreciated by our customers, of bulk seeds, packaged directly by us (10 + 1 free).
BSF Seeds crossed the two herbs that are Superstars in their cannabis catalog, releasing Gorilla White. This indica-dominant hybrid has a distinctive feature, which is resin production that is pushed to the limit. These buds literally glow with trichomes.
Of all the cannabis strains on the market, none can compete with Gorilla White.
White Gorilla is a Feminized whose parents are the two genetic legends of cannabis: as a mother, the current jewel of BSF Seeds, Gorilla Glue # 4, and as a father one of the most sought-after classics of all time, the resinous White Widow.
Indica dominant, Gorilla White has a sweet and delicate flavor, with light citrus and earthy notes, the scent is intense and difficult to forget.