Published on: 25/05/2020
Here are the 3 best indoor self-flowering cannabis seed strains of 2020.
If you find yourself reading these lines, probably, as a marijuana enthusiast, you are asking yourself what are the best indoor self-flowering hemp seeds.
We remind you that the sale of cannabis seeds in The UK is legal, while their cultivation is not.
Self-flowering cannabis plants, born of special marijuana seeds, are feminized plants: this means that 99% of the chances of producing resin-rich flowers. Self-flowering quality has the distinction of having a much faster flowering cycle than simple feminized plants.
Their cycle does not depend on seasonality but rather on the age of the plant itself. It means that the plant will not flower when it will take less light, but when it will reach sexual maturity. Basically, after about 4 weeks after the seed germination, it begins to produce flowers.
The ripening of the flowers will take a few more weeks and will be completed at the 13th week of the life of the plant. Indoor strains are best suited for indoor or greenhouse cultivation.
Now let's look at the top 3 indoor cannabis seeds for self-flowering!
3) Lebron Haze XXL Auto cannabis seeds.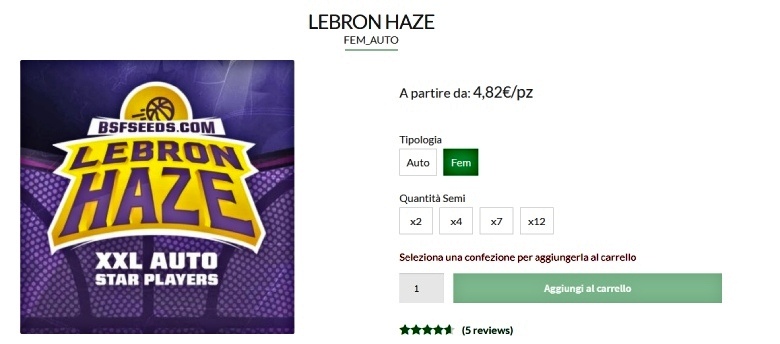 In the third place in our top 3 best indoor auto flower marijuana seeds, we have the Lebron Haze XXL Auto seeds, among the most appreciated by marijuana fans. These cannabis seeds can indeed create a plant with vigorous growth, fast flowering, and an abundant production of flowers.
It is a marijuana strain born from the mix between Lebron Haze and a fourth-generation male Jack Herrer. Lebron Haze XXL Auto inherits its mother's lemon and cedarwood flavours, and it is one of the best types of hybrid-Sativa.
Besides, it is the fastest self-flowering cannabis Sativa variety in the world as the flowers ripen after only 9 weeks! The indoor light/dark cycle recommended by manufacturer BSF Seeds is 20 hours of light, and 4 hours of darkness.
The size of the pot must be between 11 and 20 litres and the plant, especially in the first weeks of life, must not undergo any heat stress to stay healthy.
Read also: Outdoor autoflowering seeds: how best to store them?
2) Lemon Blossom XXL Auto hemp seeds.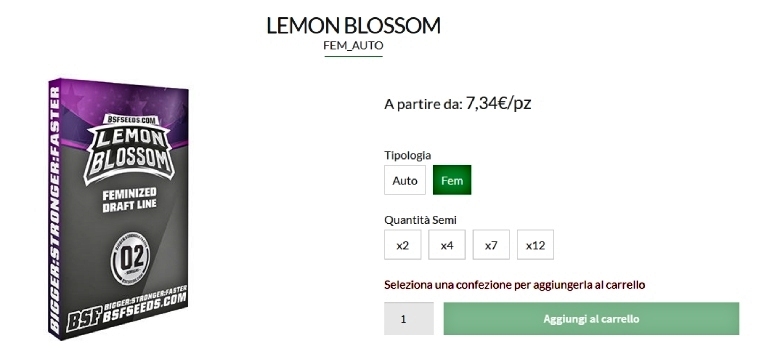 Second place in our "top 3 indoor self-flowering marijuana seeds", we have to select the Lemon Blossom XXL Auto seeds. This cannabis genetic is the result of the crossing of San Fernando Valley Og Kush with the BSF Seeds Lemon Thai (Lemon Blossom), crossed after the fourth generation of Lebron Haze Auto.
In short, it cannot be said enough that this hemp seeds producer likes to experiment. The Lemon Blossom XXL Auto is a type of tall Sativa, vigorous and very productive (450-600 g/m2), as well as easy to grow.
These precious seeds can give life to a plant with inflorescences with a powerful and intense taste, pungent and earthy tones, with notes of freshly squeezed lemon. Great citrus aromas are inherited from its Lemon Thai origins.
The manufacturer recommends a cycle of 20 hours of light and 4 hours of indoor darkness to have maximum yield, and special attention to the possible stagnation of water in the pots, which would make flowering weaker. The capacity of the most suitable containers is in the range of 11 to 20 litres.
Read also: 5 countries where marijuana seeds are legal.
1) Green Tiger marijuana seeds.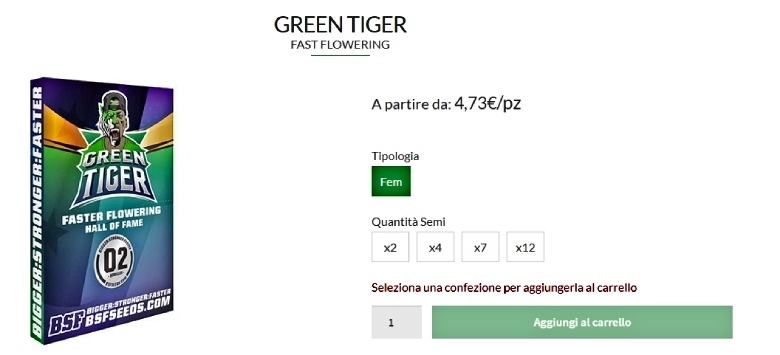 At the top of the podium are the Green Tiger cannabis seeds, a strain which deserves its spot in the indoor self-flowering cannabis "Hall of Fame". It is a cannabis genetic dedicated to the rapper Original Juan, much appreciated in the Spanish panorama.
In collaboration with him, BSF Seeds has created the Green Tiger, a cross between its elite clone Early Skunk x Skunk P90, and one of the company's fastest flowering qualities (FF – Fast Flowering). The result is a variety of autoflowering FF that blooms in about 40 days!
Green Tiger's high-yielding self-flowering feminized seeds are capable of producing 600 g/m2 of flowers in just six weeks: a huge harvest! The typical aromas of Green Tiger are sweet and fruity, so much that they taste like a summer punch with seasonal fruit.
Because of its properties, it is indicated to treat eating problems, insomnia, muscle pain, migraines and vomiting. In short, you can understand why Green Tiger cannabis seeds deserve the best spot for indoor marijuana auto flower seeds.
Buy the best indoor self-flowering marijuana seed varieties on SensorySeeds.
Now that you know what the best qualities of indoor autoflowering cannabis seeds are, you need to add the seeds of these varieties to your collection. On Sensory Seeds, you'll find these qualities and many other qualities of marijuana seeds.
What are you waiting for? Click here and buy the best indoor fast growing cannabis seeds now!