LEBRON HAZE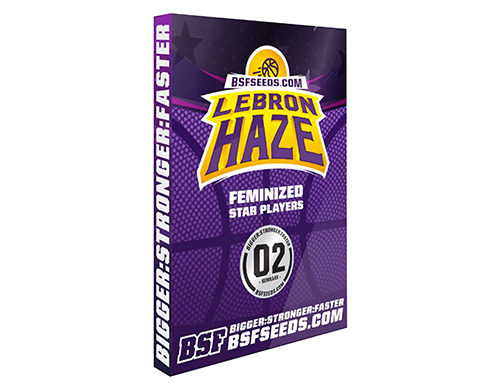 Starting from: 3,92€/pz
Genetics

70% SATIVA | 30% INDICA

Parents

(HAZE X HAZE) X LEMON THAI

THC

18-22%

CBD

LOW

Plant height

MEDIUM

Flowering time Fem

7-8 WEEKS

Flowering time Auto

9 SETTIMANE

Performance within Fem

500-650 gr/m²

Performance outside Fem

700-1200 gr/plant

Performance within Auto

450-550 gr/m²

Performance outside Auto

40-250 gr/plant
LEBRON HAZE FEM
From the laboratory of BSF Seeds a new jewel was born, following our Bigger, Stronger, Faster patterns we found the perfect evolution of the sativa; vigorous in its growth, fast in its flowering and with a great production. To create this cannabis seed they have crossed three elite clones of Haze e la Lemon Thai, originatng to the great Lebron Haze.
Lebron haze is our new sativa hybrid with incredible lemon and cedar wood flavor, whose resin covers almost all of its clumps, very easy to grow for both beginners and experienced growers.
Its medicinal properties help in treatments against depression and food problems. Lebron haze is considered one of the best players in our league, gaining a direct position in the Stars Players, dethroning the Super Lemon Haze. 
Lebron Haze is the most popular sativa in the world.
LEBRON HAZE XXL AUTO
BFS Seeds presents the autoflowering version of the fastest Sativo player in the championship, Lebron Haze XXL Auto. Resulting from the intersection between the madre Lebron Haze and a fourth generation Jack Herrer male, this variety is characterized by its sativity and speed, always maintaining high levels of production and an imposing bouquet.
Lebron Haze XXL Auto is very easy to cool both inside and outside, with a structure that has a large central body and side branches at the same height. For indoor crops we suggest a cycle of 20 hours of light / 4 hours of darkness during the harvest and in only 9 weeks the production will be ready for harvestig. We recommend pots of 11 liters minimum and maximum 20 liters and we pay particular attention that in the first weeks do not suffer any stress, with attention to the risks. In its feminized version, Lebron haze XXL Auto has a strong haze-like incense flavor, accompanied by a sativa effect that arouses laughter after two puffs, creating an instance of euphoria and ideal happiness to share with friends. Lebron Haze XXL Auto, the most sativa and fastest automatic of our crew.